JOAN E. LINCOLN
MOM
Entrepreneur
Fashion Stylist
Radio Personality on WARM 101.3
Writer for Rochester Woman Magazine Fashion Forward Column
Speaker: Empowering Women
Consultant for Women's Image and Makeup Application
Event Planner
A mother of 3 beautiful daughters, Joan hails from the Finger Lakes area. A Rochesterian for the past 36 years, Joan has come from in front of the camera lens to behind the scenes and 'painted' Upstate N.Y. woman more beautiful for more than a decade. Working for NYC-industry giant Trish McEvoy Cosmetics, Joan became a sought-after makeup artist in the region over the past 20 years. Semi-retired from the makeup industry presently, has allowed her to focus on becoming an entrepreneur, and launch 3 small businesses. Her accomplishments have always focused on female-based retail, marketing and event planning careers.

April 6th, 2017
HOW BOLD CAN YOU GO?
There are a handful of seasonal trends that we can predict — pastels in spring, jewel tones in fall. Bright prints aren't exactly groundbreaking for summer, but this time around, celebs aren't just hitting the red carpet in expected floral, traditional stripes or one-dimensional polka dots. They're wearing bold graphic prints, unusual shapes and mixing quirky patterns with even crazier ones. The end result? Head-turning, memorable looks we never saw coming.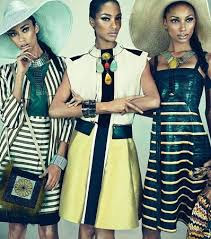 The High Fashion Runways are loaded with Bold & Beautiful patterns for the Spring & Summer Season
How adventurous are you when it comes to introducing color and pattern to your wardrobe? If you are somewhat of a fashion wallflower, you might feel intimidated by wearing bold prints. I'm pretty shy with prints, believe it or not, but I do inject them into my wardrobe each season because I think they look happy and I like to challenge myself.
Live life with style & flair…put a little Panache in your life!!!
~Joan E. Lincoln~