A mother of three beautiful daughters, Joan hails from the Finger Lakes area. A true "Rochesterian" for 35 years, Joan has come from in front of the camera lens to behind the scenes and has been painting Upstate N.Y. woman more beautiful for more than a decade. Working for NYC-industry giant Trish McEvoy Cosmetics, Joan has become a sought-after makeup artist in the region over the past 18 years. Her accomplishments have always focused on female-based retail, marketing and event planning careers; however, Joan's real passion for empowering women is defined through her makeup brush and her one-face-at-a-time makeup lesson. With her blog "Beauty Buzz," Joan will provide life-enhancing solutions for readers through her collection of beauty tips and experiences.

November 19th, 2015
Audio clip: Adobe Flash Player (version 9 or above) is required to play this audio clip. Download the latest version here. You also need to have JavaScript enabled in your browser.
Denim Debbie …Denim Dan
Canadian Denim Tuxedo… many say it's a FASHION NO NO!!!

How to wear Denim and NOT look like a Rodeo Cowboy, not that Rodeos or Cowboys are bad things…
How to Wear: Head-to-Toe Denim:::
If you uttered the term "Canadian Tuxedo" to any fashion editor just a decade ago, I guarantee the reaction would have been rolled eyes and skeptical raised eyebrows. However, as with all things in fashion, this once fabled faux pas has evolved into a chic sartorial trend. (Fashion is always recycling itself!) I love the look of denim. It can range anywhere from classic and all-American to edgy and eclectic. Personally, I'm a fan of pairing my basic semi light was blue jeans with a button up dark chambray shirt. Tips for my denim lovers:::
#1 Wear Different Washes of Denim Together
#2 Wear a Chambray Shirt With Colored Jeans
#3 Try a Structured Silhouette, a tailored blazer will update any tone on tone denim outfit!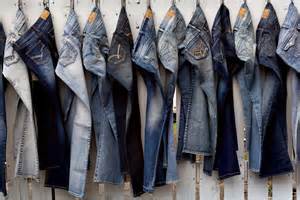 Colored jeans look pretty and unexpected when paired with a denim-colored top. Combine a pair of skinny colored jeans, like this cheerful orange pair by Mango, with a soft, chambray shirt for an outfit that's current and versatile. You can wear this easy look for shopping, weekend outings or out on a date. Dressed up with nice earrings, high heels and a big leather bag, it also makes a great go-to look for casual Fridays at the office, for those of you who work in less conservative fields. Learn more about what shoes to wear with skinny jeans.
The fun part is that the options are nearly endless when creating an all-denim outfit. Fall is my favorite season for fashion and introducing denim easily lends itself to layering.