A mother of three beautiful daughters, Joan hails from the Finger Lakes area. A true "Rochesterian" for 28 years, Joan has come from in front of the camera lens to behind the scenes and has been painting Upstate N.Y. woman more beautiful for more than a decade. Working for NYC-industry giant Trish McEvoy Cosmetics, Joan has become a sought-after makeup artist in the region over the past 13 years. Her accomplishments have always focused on female-based retail, marketing and event planning careers; however, Joan's real passion for empowering women is defined through her makeup brush and her one-face-at-a-time makeup lesson. With her blog "Beauty Buzz," Joan will provide life-enhancing solutions for readers through her collection of beauty tips and experiences.
Thursday, July 17th, 2014
Audio clip: Adobe Flash Player (version 9 or above) is required to play this audio clip. Download the latest version here. You also need to have JavaScript enabled in your browser.
Right click here to save this to your desktop or forward to your friends.
Overalls — they're having a moment.
Sarah Jessica Parker donned them on The Ellen DeGeneres show. Mad Men's Elisabeth Moss rocked them on the cover of New York Magazine. Here's how you can get this wear-everywhere look.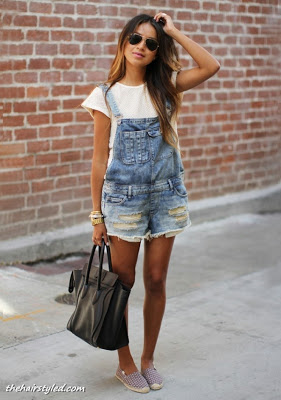 The look: The always stylish Blair Eadie of Atlantic-Pacific keeps things casual by layering a baseball tee under her overalls. Red suede stilettos lend an added pop of color that makes this look an instant home run.
Hello 1978:  I was selected as "Best Dressed" for my senior class Yearbook superlatives honor.  To mock the style & flair of the late 70′s I wore overalls for my photo!
One imagines that the coolness of bib overalls – also known as dungarees – comes from their work wear origins. There's a relaxed, down-to-earth mood associated with someone who is as far away from white-collar, tie-wearing worker as you can get. Overalls are grubby, hands-on, no airs and graces sort of fare; a uniform for the mechanic and the street-smart youth alike.
From denim overalls in the 1970s to the dungaree revival of the 1990s, the garment has also been a cyclical trend. Overalls and overall shorts a fun vintage way to recall a trend not necessarily a fashion statement.  Enjoy the comfort of this hottest fashion returning favorite this season!
Thursday, July 3rd, 2014
Audio clip: Adobe Flash Player (version 9 or above) is required to play this audio clip. Download the latest version here. You also need to have JavaScript enabled in your browser.
Right click here to save this to your desktop or forward to your friends.
Feel like you're sailing away into the summer!
Nautical is one of the easiest trends to pull off.
Navy + White. Keep it crisp, keep it simple.
When it comes to accessories, think stripes and ropes. It's all about setting sail.
Nautical fashion is a classic theme that pops up every summer. Channel your inner mariner, then freshen up your warm-weather style with  a few splashes of "Anchor Away" style.
Who wears it best: Be careful because the stripe is suitable for slim silhouettes. But you can always add a nautical accessory. For women with big bust, the top should be with a V neck in order to give some space between the neck and the chest.
Accessories can be the "outfit" when taking on the nautical theme.  Accessories making waves this season with tricolor touches, striped sensations, as well as anchor, rope, and seahorse inspired pieces. Stroll on the beach or lounge on the poolside with summer scarves and floppy hats that make a splash.
Nautical: My favorite thing about nautical fashions is that every few years they become a major trend. So whatever you invest in will likely stand the test of time. Plus stripes rarely go out of style. One word of warning nautical accessories are adorable and fun, but don't go overboard lest you look like an actual captain of a boat.

Thursday, June 26th, 2014
Audio clip: Adobe Flash Player (version 9 or above) is required to play this audio clip. Download the latest version here. You also need to have JavaScript enabled in your browser.
Right click here to save this to your desktop or forward to your friends.
Kaftan?  Newest Fashion Trend for the Summer
Not your Mama's Moo-Moo! A caftan, sometimes spelled "kaftan," is a long, loose garment with long sleeves, resembling a robe. Fabrics range from lightweight textiles for the summer months to richer velvets and brocades. Traditionally made with silk or cotton, caftans are frequently adorned with colorful patterns, and many individuals wear them with a coordinating belt or sash.
Bright ~Happy ~Silky ~Romantic.
In Moroccan Culture the young women wear a long robe like outfit called Moroccan caftan. This long garment is usually worn for festivals especially weddings.  These incredible garments are frequently luxuriously beautified with weaving, beading or sequins.
While many consider the caftan to be timeless, it experienced a surge of popularity in the West during the 1970s and has made appearances on fashion pages in recent years. The caftan can be a versatile addition to any wardrobe. It can be worn on the beach as an eye-catching cover-up, belted and paired with heels for a dinner out, over leggings and sandals for a day of sightseeing, or worn at home as a dramatic and unusual garment for the hostess of a soiree.
It's all the rage…Unusual, Happy, not BODY HUGGING, leaves a little to the imagination!!!
Change the look through this tutorial.

Thursday, June 19th, 2014
Audio clip: Adobe Flash Player (version 9 or above) is required to play this audio clip. Download the latest version here. You also need to have JavaScript enabled in your browser.
Right click here to save this to your desktop or forward to your friends.
The Art of Flirtation
Is it Fashionable to Flirt?
Flirting is fun! It boosts your self esteem and makes you feel good. Whether you flirt just for fun or for a relationship.  I think most relationships and even marriages need to keep it fresh with a little reckless flirtation.
Remember :
Winking?
You can wink at someone from across the room, or wink at someone during a conversation. If he or she says something funny, or someone else does something silly, you can give a wink as a way of sharing a little moment for just the two of you, as if the two of you are in on some private joke no one else is aware of.
Holding Eye Contact?
While you are conversing with your new friend, you want to be sure to have eye contact at least some of the time. At least once it's a good idea to hold the eye contact a little "too long," just a fraction too long, so there's a brief, more intimate moment between you.
Getting caught looking?
Most people look away when the object of their desire looks at them. If you want to let that person know you are interested, when they catch you looking, smile, hold eye contact a moment longer, then look away. It's only natural… so enjoy the Art of Attraction!!
In your light I learn how to love.
In your beauty, how to make poems.
You dance inside my chest,
where no one sees you,
but sometimes I do,
and that sight becomes this art.
(Excerpts from The Essential Rumi)
Thursday, June 12th, 2014
Audio clip: Adobe Flash Player (version 9 or above) is required to play this audio clip. Download the latest version here. You also need to have JavaScript enabled in your browser.
Right click here to save this to your desktop or forward to your friends.
What To Wear To A WEDDING
IT IS THE SEASON! Read your invitations carefully.  Research the wedding venue. Wedding attire usually breaks down into 3 categories:
Black Tie / Formal:
Red carpet worthy formal cocktail or "Live it Up" long voluptuous Gown.  Few times in our lives do we have the opportunity to Glam it Up, never out do the Bride but I think it's a compliment when guests put the extra effort into regal, elegant wedding attire. Glitz & Glam opportunity!
Semi-Formal:
Majority of weddings fall into this style of Wedding attire. Here is where the LBD (little black dress) comes in handy!  Trending is  floral, styles and fabrics with movement that offer a more romantic flirty feel to womens dresses.  Your final look when attending this style of wedding never look under dressed!
Casual:
Backyard, Barn and Park. Think  breathable fabrics and  sensible footwear.  Not the time to wear the body hugging dress or the "sit and be served" 4 inch heels.  Cotton, floral and sundress is a perfect approach to this style wedding.
Thursday, June 5th, 2014
Audio clip: Adobe Flash Player (version 9 or above) is required to play this audio clip. Download the latest version here. You also need to have JavaScript enabled in your browser.
Right click here to save this to your desktop or forward to your friends.
BYE BYE Sunspots!
MY most recent visit with VEGA MEDSPA was to address a few "SUNSPOTS" that made an appearance on my face. I noticed that one was darker than the other and I knew it was time to get them addressed.
The procedure was quick and painless.  The staff always comforting and enthusiastic.  My "downtime" for my procedure was non-existent.  I went about my day and life with only the need of a dab of hydro-balm to the treated areas. I also enjoyed the same
treatment on a mole on the back of my neck that was bothered every time I wore a  necklace.
Here's to a more beautiful you!
Thursday, May 22nd, 2014
A PURSE for CHANGE or Change a PURSE?
Audio clip: Adobe Flash Player (version 9 or above) is required to play this audio clip. Download the latest version here. You also need to have JavaScript enabled in your browser.
Right click here to save this to your desktop or forward to your friends.
Why doesn't one handbag work for a woman?  Like a  mans wallet?
Average woman has 5 handbags in her immediate collection.
I have carried the same black handbag for almost 2 years.  OK, its a CHANEL, but it's as plain as the day is long and it works for me.  I can carry every essential item I feel necessary to get  through my day and a few items "just in case"  It's not SO big that I feel like it's a suitcase and it's not so small that if I grab a magazine or carry my IPAD it's spilling out all over.
I have found that many  woman change their handbag 3 to 4 times a year.
Coordinating their handbag with their outfits, in my opinion, is a dying fashion statement and is owned by a certain generation of a certain age.
Many women are investing more in handbags and using them for a longer period of time.
I recently invested in the Abigail Riggs VOA Handbag "Mrs. Ballington Booth"  which gave me great pride knowing that part of my investment was going to a great cause.
Abigail Riggs is an altruistic handbag company whose signature Purse With A Purpose collection features handbags designed to honor significant women in history.
Thursday, May 15th, 2014
Polka Dot's
Audio clip: Adobe Flash Player (version 9 or above) is required to play this audio clip. Download the latest version here. You also need to have JavaScript enabled in your browser.
Right click here to save this to your desktop or forward to your friends.
America's love affair with the polka dot began, perhaps, in 1926, when Miss America was photographed in a polka dot swimsuit. Shortly after, in 1928, Disney introduced its cartoon darling Minnie Mouse wearing a red polka dot dress and matching bow. Throughout the 1930s, polka dot dresses appeared in stores, the fabric suddenly subversive, nipped in by ribbons and accentuated with bows. In 1940, the woozy melody of Frank Sinatra's ballad "Polka Dots and Moonbeams" captured the height of America's polka dot mania—that spring, the Los Angeles Times assured its readers, "You can sign your fashion life away on the polka-dotted line, and you'll never regret it."
Later in the decade, the polka dot accrued a highbrow style currency when Christian Dior released his "New Look" collection of hourglass dresses, many styles bedecked with dots. After a wartime period of shifting gender roles, Dior told Vogue that his collection sought "to make women extravagantly, romantically, eyelash-battingly female" again. (Dior: not a fan of the polka dots on Rosie the Riveter's headband.) Hollywood followed feminine suit, and the newly-ladylike print fast became popular with actresses: Elizabeth Taylor, Lucille Ball, and Marilyn Monroe were some of the polka dot's chief exponents.
In 1951, Monroe was famously photographed wearing a polka dot bikini. Nine years later, the release of Brian Hyland's hit song, "Itsy Bitsy Teenie Weenie Yellow Polka Dot Bikini," brought polka dots back into vogue. Throughout the '60s, the artist–and walking medley of polka dots–Yayoi Kusama became known for the busy dotted swarms that covered her paintings. "Our earth is only one polka dot among millions of others," she once said. Kusama also believed–before she checked herself into a mental hospital in 2006–that when painted with polka dots, the body became "part of the unity of the universe." Now released, the artist still sports the print."
Get your "HAPPY" on with the injection of this playful print!!!  Dare to be different!!!
Thursday, May 8th, 2014
VEGA MEDSPA TREATMENT
Audio clip: Adobe Flash Player (version 9 or above) is required to play this audio clip. Download the latest version here. You also need to have JavaScript enabled in your browser.
Right click here to save this to your desktop or forward to your friends.
I decided to treat myself to a Laser Treatment at the Vega MEDSPA
A bit anxious, but quickly put to ease with a consultation with Dr. Stephen Vega and  Nurse Christina and esthetician Viviann.
Wow what a place!  The comfort ~ the happy ~ the education about the process and machine the used for my treatment.  I couldn't wait to begin!
The preparation for my laser Level 4 Treatment took longer than the actual treatment BUT that was OK because the calming music, comfortable reclining chair and the fact that I choose to disconnect myself from social media and use that time to relax and meditate was a gift.
My LEVEL 4 laser treatment is something that I will definitely work into my regular maintenance program.  Although I wore my new best friend "HYDRA BALM" for 24 hours after the treatment, I was able to go to Wegmans immediately afterward.
Yes…VEGA MEDSPA has Gift Cards and Specials for Mother's Day!!!
Yes…VEGA MEDSPA can book appointments on Saturdays!
Yes…VEGA MEDSPA experience is extraordinary!!!
Thursday, May 1st, 2014
Audio clip: Adobe Flash Player (version 9 or above) is required to play this audio clip. Download the latest version here. You also need to have JavaScript enabled in your browser.
Right click here to save this to your desktop or forward to your friends.
NAIR And Self-Tanner
BRING ON SUMMER… Our SHORTEST season! Mini skirts are back so that means it's time to address our legs!
GUIDE TO GREAT LEGS!
For women who don't like hoisery, have trouble tanning, or just want to hide their imperfections.  Quick little guide to help you choose from among the most preferred brands:
SELF TANNER: Victoria's Secret

Wash, exfoliate, moisturize, self-tan, apply illuminating moisturizer …GO!!!

LEG MAKEUP: Sally  Hansen Airbrush Leg makeup/waterproof

Wash, exfoliate, moisturize, spray, apply illuminating moisturizer …GO!!!

NATURAL SUN:  SPF 30 reapplied every 3 hours

Wash, exfoliate, moisturize, apply illuminating moisturizer …GO!!!

TANNING BEDS: DON'T  GO THERE!!!
Thursday, April 24th, 2014
Audio clip: Adobe Flash Player (version 9 or above) is required to play this audio clip. Download the latest version here. You also need to have JavaScript enabled in your browser.
Right click here to save this to your desktop or forward to your friends.
Miniskirts ~ A Fashion Statement Comeback
Hemlines are rising  and that makes certain admirers very happy!!!  They are mod, flirty, kicky, sporty and even formal.
Minis have come and gone and come and gone again since their introduction in the 1960′s.
Designers love to switch directions in their pursuit for something new.
So here we go again, the great thing about Fashion is that season after season we can expect one thing and the next season it can be a contradiction!!!
Miniskirts are NOT for Everybody or every environment:::
Most buyers are a bit cautious and are watching the buyers trend before jumping on board.  MOST skirts are being offered in just below or just above the knee.
Office Warning…if you can sit in your office chair and get up out of it without adjusting your skirt, then you are good to go.  but if your skirt hikes up and rides up the body its time to consider a different size.
Introduce yourself to a leg makeup or self tanner.  Because there will be an abundance of additional skin revealed if you choose this miniskirt Fashion trend.
Footwear can make or break the Miniskirt look…too high heeled can send the "lady-of-the-evening" message, chunky heel, ankle boot or kitten-heels are suggested complimentary footwear options.
These days fashion is all about choice.  There are so many choices: mini, midi, and maxi!!! No hemline is obligatory!!!
Thursday, April 17th, 2014
Audio clip: Adobe Flash Player (version 9 or above) is required to play this audio clip. Download the latest version here. You also need to have JavaScript enabled in your browser.
Right click here to save this to your desktop or forward to your friends.
Your Makeup is only as good as your skin:::
Beauty Buzz…
Skipping a few hours of sleep, forgetting to wash your face before bed, not apply sunscreen everyday all seem so innocent right? But odds are, at least one of these habits in your daily routine are the cause of those dreadful breakouts, crow's feet and flakey or discolored skin. Fortunately, the fixes are simple! By nixing these everyday habits you can take years off your complexion, and leave skin protected, balanced and refreshed:
#1  Forgetting Sunscreen…I know, I know…you have heard it all before, but if you Play & Work outside, then be smart and add 30 SPF to your daily program!!!
#2   Applying Makeup with Dirty Brushes. This may seem innocent, but applying makeup with the same brush month after month causes dirt and bacteria to buildup which can lead to breakouts. It's important you wash brushes every two to three weeks. An easy DIY quick fix is to mix a couple of drops of gentle facial cleanser or shampoo with lukewarm water in a cup. Then swish your brushes around, rinse with lukewarm water, pat dry, and lay flat on a clean towel to air dry.

#3   Not Cleansing Daily. Going to bed without washing your face is one of the biggest skin care no-no's. Leaving makeup and dirt on skin doesn't just clog pores and cause breakouts, it can also lead to excessive dryness and even skin dandruff. To clear out the gunk without drying out skin, opt for a soap-free cleanser!
… and get a facial at least 4 times a year!!!  YOU WILL THANK ME!!!
Thursday, April 10th, 2014
Audio clip: Adobe Flash Player (version 9 or above) is required to play this audio clip. Download the latest version here. You also need to have JavaScript enabled in your browser.
Right click here to save this to your desktop or forward to your friends.
BYE BYE WINTER DRY SKIN… HELLO VIBRANT REJUVENATED SKIN!
SPRING CLEANING APPOINTMENTS TO DO LIST:
So I called my Landscape & Yard Cleanup Co. for my Spring cleaning  THEN I called and booked my appointment for my SPRING CLEANING on my FACE!!!
It's my new approach to personal maintenance.  I realized I sometimes take better care of the appearance my house and lawn than my FACE!!!
My approach for this "SPRING CLEANUP" was for a more medicinal maintenance, so I did a little research and it was recommended that VEGA MEDSPA was a good place for me to consider for this treatment.
I booked a consultation, met with the Nurses and Skincare professionals and explained what I wanted and where my limitations are regarding invasive treatments, then they made their recommendations.  The SPA environment was pleasant and unassuming.  A bit more private and personal then other locations I have experienced.
My 90 Minute luxurious and educational skincare session is booked:
1.  Facial for simple renewal and rejuvenation
2.  Removal of sun damaged spots and skin tags
3.  Age appropriate and age defense procedures to help redefine radiance…multilevel skin resurfacing systems and treatments.
Keep you posted on how both cleanups go!!!
Thursday, March 27th, 2014
Audio clip: Adobe Flash Player (version 9 or above) is required to play this audio clip. Download the latest version here. You also need to have JavaScript enabled in your browser.
Right click here to save this to your desktop or forward to your friends.
The past few years sky high heels have dominated the runways and street style, but when I look around the streets, the only people wearing sky high heels are, well… young girls who haven't been educated on the damaging effects of this fashion trend. Wobbling on the cobblestones and uneven pavement just isn't a look or risk I am willing to take anymore.. I mean, I know that wearing a three inch maybe a four inch heel around, has it's fashion-look benefits, but everyday? Just not feeling them anymore.
It used to be that flats were just ugly frumpy shoes, but these days I'm seeing a lot more that are both comfortable and sensible , and they aren't just ballet flats either. Nice ankle boots, cut out brogues, and fashion forward clogs. The possibilities seem endless, and to be honest, it makes for a good excuse to take a nice walk anywhere.
If the Shoe Fits…
Some shoes are what I call "Sit and be Served" like the ever popular Red Sole Christian Louboutin.  However, most of us living a real life have to consider wearing footwear that is a bit less fashionable and a bit more sensible.  123 Shoes offers the most comfortable foot friendly selection in Rochester.
But, there is a new kid on the block called:
Shulogique – style that fits
Shoe-ologists are trained to assist their clients to achieve the best fit in a beautiful high heel.

Thursday, March 13th, 2014
Audio clip: Adobe Flash Player (version 9 or above) is required to play this audio clip. Download the latest version here. You also need to have JavaScript enabled in your browser.
Right click here to save this to your desktop or forward to your friends.
Attention all BEAUTY JUNKIES:::
More Women Mix Cosmetics, forcing Brands to devise flexible
products and rethink formulas.  Many women have to have the newest trends, even if it doesn't work on them!!!  Owning so many items is expensive and takes LOTS AND LOTS of time to apply in the right order.
I have given hundreds of women  makeup lesson and always recommend that their makeup take no longer than 7 minutes per application. More is less and fewer products with the right tools will expedite the application process.
MIRROR TIME:::It's expensive to be a woman
How many minutes does the average woman spend applying her makeup?
3hours,19 minutes a week…17 minutes per application

How many products does the average woman use everyday for a day "LOOK"?
Women use 4 – 5 on average, FYI men use 1. These means BIG money for women since the Makeup and skincare Industry typically charges more for women's products than similar products for men.
Thursday, March 6th, 2014
Audio clip: Adobe Flash Player (version 9 or above) is required to play this audio clip. Download the latest version here. You also need to have JavaScript enabled in your browser.
Right click here to save this to your desktop or forward to your friends.
How To Dress to Appear Taller…
Those wishing to adopt the fashionable illusion of a thinner frame and increased height can use clothing to pull off the trick.
When you are short, figuring out what to wear can be pretty difficult – especially if you want to make yourself look a bit taller than you really are. The most important thing for you to keep in mind is that it is possible for you to make yourself look taller than you really are, according to the way that you dress.

For vertically-challenged men and women, the desire to look tall may seem like an unreachable dream. While you may not be able to change the stature that nature gave you, the right clothes and accessories can actually help you appear taller than you are. Also knowing what NOT-TO-WEAR is as important!
What to wear  & What NOT to wear:
Avoid thick, bulky fabrics or baggy clothing that hangs off the body, which can cause a person to look heavier and shorter.
Vertical patterns, solid colors, and snug fits are among the many garment details that can create the illusion of height. However, the slimming and height-increasing fashion techniques that work for one person may not work for all.  Monochrome dressing, choosing outfits in the same color, will make you appear taller and elongate your look.
Elevator Shoes are not going to make you grow taller, they are similar to high heels, but the heels are hidden and much comfortable.  Many men have chosen this footwear option to appear 2 – 5.5 inches taller.
Posture, hairstyle and body-weight are additional factors to acknowledge when dressing to appear taller than your gifted stature.
How to appear taller in photographs:
The first point to keep in mind is to stay away from the center where you will look the shortest. The simple rule to follow is that those objects and people that are nearer to the camera seem to appear larger though it may not be real. So always try to be in the front row while getting clicked. If you want to be taller than people in the same row, be two to four inches closer to camera than them.
You can change the way you look, actually appear taller and thinner, if you alter how you present yourself and what you wear. Make the right fashion choices and you'll be amazed at how people perceive you
Thursday, February, 27th, 2014
Audio clip: Adobe Flash Player (version 9 or above) is required to play this audio clip. Download the latest version here. You also need to have JavaScript enabled in your browser.
Right click here to save this to your desktop or forward to your friends.
Just where do designers get their inspiration Season after Season?
Fashion Week for Fall 2014 is HOT off the NY Runway
Many designers approach the creation of a new collection by doing it the "Old School" way, sketching out their ideas on paper.
More art than design, many designers add fabrics and trimmings after the design is chroncicled designs on paper.
Designer Inspirations has been garnished from :
~Many go back to their roots and showcase looks that are reminiscent of some of our favorite looks, others visit places like MOA and are inspired by the weavings, embellishments and enbroideries of craftsmen.  They even  study what other cultures and history of those cultures have endured, such as native crafts, colorful and sometimes rugged terrains.
Embrace each season with a splash on the unusual and watch your wardrobe come to life!!!
Everyday is a Runway…live your life with Panache!!!

Thursday, February 20th, 2014
Audio clip: Adobe Flash Player (version 9 or above) is required to play this audio clip. Download the latest version here. You also need to have JavaScript enabled in your browser.
Right click here to save this to your desktop or forward to your friends.
HOW TO SQUEEZE FASHION INTO YOUR LUGGAGE
It's Winter and Spring Break Vacation Holiday time.  If you're lucky enough to be getting out of this wicked winter we are experiencing,educate yourself and your family on:
How to pack a suitcase for your Holiday destination.
The goal when packing a suitcase is to fit as much as possible into a small space. Being able to pack efficiently is an especially important skill in this day and age.
So you drive, fly, maybe even cruise…but are you prepared to pack your luggage for that holiday destination?  First: check the weather of your final destination.
Last week I packed a small carry on luggage, so when I returned to Rochester after driving my daughter down to Columbus,Georgia to begin a new chapter and new career, I could just "CARRY-ON" with no hassle my small piece of luggage for my flight back to Rochester.   What I didn't pack or plan for was to be stranded in Atlanta, Georgia for 4 additional days 2 of which had a NO TRAVEL ADVISORY!!!
You know what that means, especially in an EPIC ICE STORM IN ATLANTA GEORGIA? = NO SHOPPING!!!
You know the rule, no more than 50 lbs and NO Liquids over 3 oz.  I followed all the rules.
Four days stranded in Atlanta and 5 canceled flights, puts frustration on any traveler and her wardrobe.  Fortunately, most of what I packed was lightweight, could be layered and for the most part could be coordinated to mix and match.
I packed with great determination and started the bottom layer of my suitcase with footwear and outerwear, then rolling my denim and heavier items, followed by many cami and tops, I squeezed the air out of my suitcase..BELIEVE ME!!!
Ladies, our most precious makeup and toiletries are always a concern when flying so make sure you follow the rules.  I continue to promote the Trish McEvoy Makeup Cosmetic bag system and placed my precious makeup in the middle of the luggage padded with clothing so I didn't have to worry having it damaged.
Knowing how to pack a suitcase is essential to being a good traveler, it truly is like a puzzle.  Also, get the process started early so that substitutions can be made and coordinate with layers so that when cooler and warmer weather occurs you are prepared for what may come your ways.
Happy Travels!
Thursday, January 9th, 2014
Audio clip: Adobe Flash Player (version 9 or above) is required to play this audio clip. Download the latest version here. You also need to have JavaScript enabled in your browser.
Right click here to save this to your desktop or forward to your friends.
It's the New Year and loads of Happy feminine, girly trends will hit the SPRING Fashion Magazines like wild!!!
Florals are Huge this season
Tribal designs
and of course the 2014 Pantone color of the Year "Radiant Orchid"
Rochester Woman Magazine is now available.  Get your FREE Copy at Panache Vintage & Finer Consignment

Thursday, December 19th, 2013
Nips & Tucks changes transform a look
Audio clip: Adobe Flash Player (version 9 or above) is required to play this audio clip. Download the latest version here. You also need to have JavaScript enabled in your browser.
Right click here to save this to your desktop or forward to your friends.
The Fit Difference ~ Off the Rack rarely fits! If your career makes you swirl in the professional corporate world, then wearing a suit is part of your 9 to 5 wardrobe.
A Tailor's toolbox of nips and tucks is going to be your best friend.  Because ready-to-wear is rarely ready-to-wear.  Your chosen tailor or seamstress will be your best friend in transforming your "off-the-rack" investment with hidden changes will make subtle changes to make you feel like you have your won personal stylist.
Historically, tailoring was common for men, since women did most of their sewing at home.  As most of us know, women designing and sewing at home, let's just say some rolls have changed.
Fashion and styles always come back in style but never exactly the same.  Having a tailor or seamstress to adjust the shoulder pads, waistlines, and sleeve widths will make some of your older styles feel like a new wardrobe.
Do your research and make a connection, the talent in the tailoring and seamstress industry is aplenty.  The transformations can be addicting, but well worth the expense, you soon will want to reshape your entire wardrobe to perfection.
Thursday, December 12th, 2013
Audio clip: Adobe Flash Player (version 9 or above) is required to play this audio clip. Download the latest version here. You also need to have JavaScript enabled in your browser.
Right click here to save this to your desktop or forward to your friends.
Panotone Color of the Year 2014 = "Radiant Orchid"  18-3224 TCX
Love it, Hate it, A New Pink is on board for 2014
Pantone originally made color cards for cosmetic companies. Lawrence Herbert, an employee since 1956, purchased the company in 1962 and began working on a color matching system.
The Pantone Color Matching System created a standard method for users to match colors exactly during the graphic design process.
Radiant Orchid  allows for creativity and ingenuity, which may appeal to the fashion-minded and tech savvy.  The hue also offers a sharp contract to the Emerald, Pantone 2013 Color of the Year.
Women who follow Fashion want to wearing the color of the moment.  You will even see the stores FULL of Radiant Orchid options from footwear to, home decor and appliances.
Thursday, December 5th, 2013
Audio clip: Adobe Flash Player (version 9 or above) is required to play this audio clip. Download the latest version here. You also need to have JavaScript enabled in your browser.
Right click here to save this to your desktop or forward to your friends.
It's Sweater Season!!! Snuggletime!!! Sweater Sticker Shock~ Why LUXURY clothing costs more… The Story behind the $$$$$ Price Tag
Designers' Collections are full of lush, chuncky sweaters this season.  While they look basic, designers say these sweaters reflect high levels of workmanship.
Price is determined on the designers retail status.
Stella McCartney, yes Paul's Daughter, prides herself and her sweater collection made from South African Wool in the Venetto region of Italy.  Ms. McCartney vets wool suppliers for humane animal-husbandry practices and sustainable farming methods.
Designer items are not mass-produced and should be of extraordinary quality.  Labor standards play a big role in price.  Most designer sweaters are made in Italy or Scotland, where workers are protected by labor laws.  Designers produce smaller quantities and can't qualify for discounts available to mass producers.
The prices of designers basics such as sweaters and coats are rising at an alarming rate, some say by 50% since the 2007-08 financial crisis- and are likely to keep rising.
Department stores offer Luxury, Contemporary, and then lower priced tiers so that every client, no matter their pocketbook, can afford to keep warm on some level this season.
Now you can really have the best…
SHOP with PANACHE Rochester's Premier LUXURY Womens RESALE Boutique!
Thursday, November 21st, 2013
Audio clip: Adobe Flash Player (version 9 or above) is required to play this audio clip. Download the latest version here. You also need to have JavaScript enabled in your browser.
Right click here to save this to your desktop or forward to your friends.
The Changing Face of 50
New surveys show that 50 is the new 30
With the growing number of minimally invasive and non-surgical options, we are able to maintain our youthful appearance for longer
Women are more open than ever to both surgical and non-surgical treatments to slow down the visible signs of aging
Facial Peels is a common favorite.
When it comes to reversing the hands of time most women  demand a natural result – not the wind tunnel, pulled look of previous generations. We simply want to be the best, most youthful and attractive version of ourselves that we can be, without looking too different.
In our youth-obsessed culture, a woman's next birthday is not always a cause for celebration.
Ladies don't need to be anxious about hitting that half-century mark anymore.
The general consensus is that 50 is more like the new 30!  Sounds cliche, I know, however:
on average, 69% of women age 45-60, reported feeling at least six years younger that their chronological age.
Women in their fifties still feel sexy, vibrant, beautiful and desirable.
Fifty is a special number, lucky for we women in this age bracket,  we can now be empowered by a society that is aging backwards!
Today, women in their 40's and 50's are more confident and beautiful than ever before.
These ladies have the life experience and knowledge to look as great as they feel…live life with style & flair…Panache!!!
Thursday, November 14th, 2013
Audio clip: Adobe Flash Player (version 9 or above) is required to play this audio clip. Download the latest version here. You also need to have JavaScript enabled in your browser.
Right click here to save this to your desktop or forward to your friends.
Winter Crush!!!
Is that luxurious fiber ~ VELVET~ only for the Holiday Season?
There are many theories on where Velvet originated from. But most people agree that it originated somewhere in the far east. Was carried along the legendary Silk route by Arabs to Europe. Velvet reached Italy and made fortunes for the cities of Lucca, Sicily, Florence as they had the largest production of velvet from the 12th – 18th century. They supplied  to the rest of Europe. Velvet was used in everything rich, from horse carriages to furniture, clothes, and upholstery
One of the richest fabrics known to man, velvet is today more in fashion than ever. Couturiers and street designers favor its softness and luster, but it has been famed throughout the ages for sumptuous elegance.
Velvet has always reminded me of children's clothes, those cute, tiny, shiny frocks. But this season , velvet is making an appearance on the red carpet, on fashion ramps, at parties and just about everywhere.
Velvet's opulence is only matched by its versatility.  An ostentatious fabric, is often confused by some with terry cloth and its sister looping fabric corduroy.
The difference between velvet and these other fabrics is that for velvet, the loops are cut, forming a soft textured surface over the entire surface of the fabric. Terry cloth has loops that aren't cut, and corduroy has cut loops that appear in rows rather than across the entire surface.
Many Designers have treated us to the plush revival of velvet – and after waiting all summer, it's finally cold enough to break out the luxed-up fabric. The only problem? Velvet can be a tricky material to wear. Incredibly chic when done right, velvet also has the potential to look dated and costume-y when done wrong. So, before you take the rich trend out for a spin, check out a few dos and don'ts: ~ Keep accessories simple
~ Hair and Makeup should be more understated
As the holiday season rapidly approaches, it's time to start planning what to wear for your upcoming festivities. Take this opportunity to incorporate a splash of velvet into your wardrobe.  Forget your assumption that it's tacky and out of style. But don't go overboard; wear a pair of black velvet jeans with a t-shirt and blazer, or sport a velvet cocktail dress alone with opaque tights and killer heels. Not only is velvet warm, weather friendly, and comfortable, it's also perfect for any holiday party dressing. A simple velvet dress creates the perfect look for those fancy holiday soirees. Not the type to go to a fancy holiday party? Throw on leggings and a velvet tank and you will still look perfectly festive.
Many feel that velvet is too formal for an office environment.  If you find yourself in a traditional corporate culture, then implement velvet in a very subtle simple way.  Use this luxurious fabric as an accessories rather than the main component of your outfit.  The traditional velvet jacket has always been an acceptable staple in many closets.  Just remember to keep it simple and don't over accessorize the look.
Years ago the introduction of burnout velvet was introduced to the fashion industry.  The trendy took over and now most of can say we have at least one burnout garment item in our closet.  This fabric is a subtle way to wear our velvet any time of the year!
There's something about velvet fashion trends in 2013 that just screams winter time elegance, and now when velvet makes for one of the most sophisticated 2013 fashion trends, it's high time to seize the moment and make the absolute best of it!  It's not just for the Holiday Season  anymore!!!
Thursday, October 31st, 2013
Audio clip: Adobe Flash Player (version 9 or above) is required to play this audio clip. Download the latest version here. You also need to have JavaScript enabled in your browser.
Right click here to save this to your desktop or forward to your friends.
The truth behind skin-care myths!!
Rumor has it chocolate causes acne and Botox prevents wrinkles. No sugarcoating allowed…I  will have some medical facts…are they accurate?
Junk Food/Candy causes acne?
Although Dark chocolate may in fact offer multiple health benefits, milk chocolate is being called into question as a possible cause for acne.  Associations have been made that between the consumption of high-glycemic food (typically foods that contain refined carbohydrates) and breakouts among people who are acne prone. Why?  Inflammation is known to aggravate acne, sweets and sugary drinks can raise blood sugar quickly leading to inflammation.
Botox can prevent wrinkles?
Theoretically, yes.  But no long-term studies support this claim.
Here's the concept;  if you relax the muscles that continually contract, you'll see fewer creases over time.  Skincare and SPF are better choices for fending off wrinkles.  Many medical experts advise beginning Botox treatments no earlier than when fine lines first appear, generally in your 30s.
Your can get rid of cellulite?
No cellulite fix is permanent.  Some treatments may minimize the look of cellulite and iron out the fat cells somewhat but many remedies last, at best, a few months.
Skincare products from the same line are more effective?
YES!!!  Some ingredients are partnered together to have benefits that produce a better result when used together.
The higher the SPF the longer I can stay in the sun. NO!!!  SPF 30 protects us from the UVA AND UVB…look for "broad-spectrum" label to get the best coverage and remember it's most effective when SPF is appliled every 2 hours.
Facial exercises keep skin taut. NO!!!  Imagine a piece of paper being crumpled and folded over and over again…the muscle contractions used in facial exercises can actually contribute to wrinkling.
Keep smiling and living life…earn those "Happy Lines"
Thursday, October 17th, 2013
Audio clip: Adobe Flash Player (version 9 or above) is required to play this audio clip. Download the latest version here. You also need to have JavaScript enabled in your browser.
Right click here to save this to your desktop or forward to your friends.
Fashion Week of Rochester has a number of amazing opportunities to catch your favorite local designer, boutique and artist.  Shannon Elizabeth, Actress know for movies such as American Pie and Scary Movie, Tommy Lee, Musician Motley Crue, and our own Greg Polisseni  creator of Artistix, to name a few "WOW" elements  for our 2013 Runway Entertainment.
New sponsor this year Verizon Wireless is allowing donations  of used phones,  where the data will be removed and these refurbished phones will be shared with The Center For Youth Kids so they will have communication if ever in need.
Of course, you can also look forward to designer Blynn Nelson from Reckless Necklace:
Tanvi Asher Designer and owner of  SHOP PEPPERMINT
Lilith Collection from Paris by Panache
Wegmans is the Hot spot for Tickets sales!
Refashioning Fashion and reclaiming some amazing architecture, giving new life to Rochester and to the kids who survive because of The Center For Youth.

Thursday, October 10th, 2013
Audio clip: Adobe Flash Player (version 9 or above) is required to play this audio clip. Download the latest version here. You also need to have JavaScript enabled in your browser.
Right click here to save this to your desktop or forward to your friends.
Fashion Week of Rochester SWITCH & SWAP at the Memorial Art Gallery kicks-off the Week long list of events.  Join us from 12 to 8pm at the Memorial Art Gallery for $20 admission and bring along a garment to donate for the Fundraising efforts for the Center For Youth.  Bring your girlfriends for a warm and fuzzy Upcycle and Refashioning Fashion Event.  SWITCH & SWAP… SHOP LUXURY RESALE!!!

Thursday, October 3rd, 2013
Audio clip: Adobe Flash Player (version 9 or above) is required to play this audio clip. Download the latest version here. You also need to have JavaScript enabled in your browser.
Right click here to save this to your desktop or forward to your friends.
Curly Hair Fall Trends… to curl or not to curl is the question…We curly hair girls pack some serious tools and products.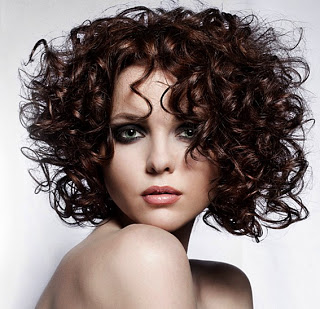 Braids: The looks are endless that you can create with a braid, it will be an easy trend to rock this fall!
Low messy buns: One of the easiest trends to try out this fall is the deconstructed low bun! The deconstructed low bun is so easy to do with curly hair.
The tools and products available are endless for curly hair girls!!!
To fight the Frizz of curly hair I have found that the right combination of products is a customized recipe.  What works for me may not work your others.  Two of my daughters are also curly hair girls and the products that they use are drastically different from my formula.  As we age we tend to color and treat our hair more often, damaging, drying and redefining the texture of our hair.  The products and tools that once worked may need to "age" with our hair texture and style.

Thursday, September 19th, 2013
Audio clip: Adobe Flash Player (version 9 or above) is required to play this audio clip. Download the latest version here. You also need to have JavaScript enabled in your browser.
Right click here to save this to your desktop or forward to your friends.
STAND OUT 
Fall accessories that will show your wardrobe some serious love!!!
Stacked bracelets ~ arm armour
Pointy Heels ~ Red Soles  ~ Christian Louboutin obsessions
Oversized Ear Candy…without too much earlobe strain
Animal Print…OF COURSE!!! Splash with handbag or shoe
PLEATS + PLEATS and more PLEATS!!!
Thursday, September 12th, 2013
Where Did That Pesky "No White after Labor Day Rule" Come From?
The post–Labor Day moratorium on white clothing and accessories has long ranked among etiquette hard-liners' most sacred rules.  But ask your average etiquette expert how that rule came to be, and chances are that even she couldn't explain it. So why aren't we supposed to wear white after Labor Day?
One common explanation is practical. For centuries, wearing white in the summer was simply a way to stay cool — like changing your dinner menu or putting slipcovers on the furniture. Not only was there no air-conditioning, but people did not go around in T shirts and halter tops. They wore what we would now consider fairly formal clothes. Inaddition, white is of a lighter weight.
How to wear White year round:
Every Wardrobe needs that classic white menshirt, T-shirt, and tank.  These items are essential to  create that classice polished, professional outfit.
Introduce White in a more seasonal fabric, so stash the linens and cottons and bring out the white leather!!!
Fall is about getting back to work and back to school, and your clothing should reflect the seasonable vibe."
This time of year is all about "toughening up" clothes
While no one is completely sure exactly when or why this fashion rule came into effect, my best guess is that it had to do with snobbery in the late 1800s and early 1900s.
The wives of the super-rich ruled high society with an iron fist after the Civil War. As more and more people became millionaires, though, it was difficult to tell the difference between old money, respectable families, and those who only had vulgar new money.
By the 1880s, in order to tell who was acceptable and who wasn't, the women who were already "in" felt it necessary to create dozens of fashion rules that everyone in the know had to follow.
That way, if a woman showed up at the opera in a dress that cost more than most Americans made in a year, but it had the wrong sleeve length, other women would know not to give her the time of day.
Not wearing white outside the summer months was another one of these silly rules. White was for weddings and resort wear, not dinner parties in the fall. Of course it could get extremely hot in September, and wearing white might make the most sense, but if you wanted to be appropriately attired you just did not do it.
Labor Day became a federal holiday in 1894, and society eventually adopted it as the natural endpoint for summer fashion.
Not everyone followed this rule. Even some socialites continued to buck the trend, most famously Coco Chanel, who wore white year-round. But even though the rule was originally enforced by only a few hundred women, over the decades it trickled down to everyone else.
By the 1950s, women's magazines made it clear to middle class America: white clothing came out on Memorial Day and went away on Labor Day.
These days the fashion world is much more relaxed about what colors to wear and when, but every year you will still hear people say that white after Labor Day is unacceptable!
Thursday, September 5th, 2013
Audio clip: Adobe Flash Player (version 9 or above) is required to play this audio clip. Download the latest version here. You also need to have JavaScript enabled in your browser.
Right click here to save this to your desktop or forward to your friends.
Will short hair really make a woman look younger?
A new study reveals that age 46 is when a woman decides to cut her hair short for a more "mature" style.
Long hair after 40 doesn't automatically make you look older, but since hair thins as you age, pump up the volume with layers and movement around the face. Poker-straight styles are too harsh, try parting hair on the side for a softer look,  It will open up your entire face and give you a fresh, wide-awake look.
There are plenty of different ways to wear long hair. For older women, keeping your hair youthful (without trying to look too young) will make you look and feel younger.
Pros of Long Hairstyles
Long hair can make you feel youthful.
If your hair is very healthy and shiny, long hair shows it off.
There are many ways to wear long hair, including braids, ponytails, upsweeps and more.
There are many more accessories available for long hair than for short hair. Consider beautiful hair clips, barrettes, and even chopsticks.
Face it, long hair is fun to toss around and is often considered sexy.
Cons of Long Hairstyles
Long hair can be a lot of work. There's washing and drying time, and it's easier to get split ends because you tend to brush long hair more than short hair.
Your hair needs to be healthy – long hair looks ragged if you have dry, split or otherwise problematic hair.
If you like to color your hair, it will take longer to maintain that color, and it also costs more money since there is more work involved.
Shorter women with extra long hair can look disproportionate. Try to match your hair length appropriately to your style and stature.
You'll likely end up using more shampoo, although daily washing for long hair is unnecessary. Extra conditioner is almost always a must, though.
If you have naturally curly hair, long hair can become tangled and hard to manage.
2013 Hair Trends
Thanks to Kim Kardashian, Her Royal Highness and sister Pippa,  along with Carie Underwood…long luscious hair is here to stay this Fall.  The goal is to have an effortless, full layered tress of healthy hair.

Thursday, August 29th, 2013
Audio clip: Adobe Flash Player (version 9 or above) is required to play this audio clip. Download the latest version here. You also need to have JavaScript enabled in your browser.
Right click here to save this to your desktop or forward to your friends.
Peggy Sue Got Trendy Fashion's new 50′s Crush Here's the skinny on skirts!!!
After years of skinny domination, flounce is back in the picture!  We get a break this season: Trend cautiously, it has the potential to look a little like a costume.
How to wear the new skirt trends:
Voluminous Circle Skirt:
Roomy skirts with volume and flounce, just like the skirt Peggy Sue got engaged in.
An innocent look from decades ago when coming-of-age films like "American Graffiti and "Grease"
Hemlines well above the knees and below, and relaxed skirt silhouettes.
Some designer inspiration came from ballet clothes, this new style skirt is softer on larger thighs.
Peplum skirt:
There's a lot of flounce for the ounce so choose a soft material, too stiff a fabric can bring back
visions of "Dynasty"
Embrace the femininity of this style and wear a kitten heel or flats.  If you are shorter avoid wedges they can make a leg look shorter.  Tights can be a fun choice for a shorter body just remember to match the color of the shoe to the tight.
What to pair with are new circle skirts:
The skirts have movement and texture so make sure that you choose a softer, simple and more body conscious top.  Think classic and basic.  Waist length sweaters, or a wide bottom sweater or top that brushes the waistline will be your perfect choice.  A cinched or belted top will add the illusion of a smaller waist against the voluminous circle skirt.
Men-inspired footwear, such as oxfords have been suggested to wear with the playful full silhouette, remember the saddle shoes and bobby socks in "Grease"…it can be a very sexy look!

Thursday, August 15th, 2013
Audio clip: Adobe Flash Player (version 9 or above) is required to play this audio clip. Download the latest version here. You also need to have JavaScript enabled in your browser.
Right click here to save this to your desktop or forward to your friends.
She's Got Legs…THANK YOU ZZ TOP!!!  Have you ever wondered where the "Video Girls"  with the perfect legs are now?
So let's get real…some of us are challenged with varicose and spider veins.You cringe when you see those purplish raised veins on women's legs, or your own. Did you know that 50 percent of women will have spider and/or varicose veins by age 50. Varicose veins are usually the result of pregnancy, weight gain, your body type, or standing on your feet for a prolonged period of time.  Are you one of them? If so, cringe no more!
Temporary Concealing:
Varicose Veins are often raised above the surface of the skin and can be dark purple or blue in color. Standard concealers and foundations usually do not provide enough coverage to completely cover these veins. You need to use a high-pigment, full-coverage opaque makeup. These foundations can be purchased at some drug stores and department-store beauty counters or found on the Internet. Dermablend happens to one of my favorite products.  Water-proof and many pigment choices!
Fashion:
Compression Hose…NO MORE!!!
Do you dress to to cover your legs?  Shopping can be challenging to accommodate and camouflage these imperfections that appear on our legs.  After weeks of searching, you have found the perfect summer dress to wear to that wedding next week. The only problem? The higher hem shows off the backs of your legs and those varicose veins snaking along your calves. But before you resort to wearing pants or maxi dresses for special events in the summer, read up on varicose veins and treatments to get rid of them.
Treatment:
The Vein Institute in Rochester is my recommendation for a consultation!
website is www.farewellveins.com.
There are videos of laser procedures as well as cosmetic injections.  There is also pretty cool testimonials of patients.  I guess the most important thing regarding treatment, is that it is almost always covered by insurance and there is no down time, back to work immediately, or exercise.  You can  also do cosmetic injections that are not covered by insurance, but there are offers for a payment plan to make it easier for everyone.  The Vein Institute also has a facebook page and word on the street is that they will be doing another round of free screenings starting this month, dates are listed on the facebook page or anyone can call the office at 339-2080 for more info.
FYI, they are running a contest on our facebook page to win free sclerotherapy ( cosmetic injections) by guessing THE VEIN INSTITUTE pregnant PA's delivery date and baby's weight.

Thursday, August 8th, 2013
Audio clip: Adobe Flash Player (version 9 or above) is required to play this audio clip. Download the latest version here. You also need to have JavaScript enabled in your browser.
Right click here to save this to your desktop or forward to your friends.
For some, golf is a fun recreational game that may be played in casual attire, such as jeans or shorts and a T-shirt or other loose top. For others — mainly country club patrons — golf is a sport for ladies and gentlemen who should be dressed appropriately. PGA Tour officials tend toward the latter opinion, although Tour rules don't expressly forbid items such as shorts or collarless shirts.
Spectators are flooding golf courses annually to watch events on the PGA, Senior PGA and LPGA Tours. Golf is also a game of etiquette and honor, with many time-honored traditions governing play and conduct. Personal appearance for females is very important at golf clubs no matter what the situation.
PGA Tour Dress Code
The PGA Tour Handbook states: "Players shall present a neat appearance in both clothing and personal grooming. Clothing worn by players shall be consistent with currently accepted golf fashion. The tournament director shall interpret this regulation subject to the approval of the commissioner."
Women love to dress up for special occasions, and big golf tournaments are no exception. Golf is a civilized sport, and the atmosphere is quite reserved. Spectator attire should reflect this by being modest and tasteful. At the same time, you need to dress comfortably.
Bring  sunglasses, binoculars and an umbrella.
Sunscreen. Always! Wear a hat. Small cross-body handbags so hands are free to clap for your favorite players.
Remember it's a Golf tournament not a Fashion Show runway, so leave the heels in the car and wear sensible walking footwear! Reminder: most tournaments have a NO GOLF SHOE RULE!