Wake Up with Tony Infantino in the Morning every day this week, WARM 101.3 will be giving away great People's Pottery Holiday Prizes! Just email Tony Infantino, telling me your most memorable Holiday Moment and if your story is chosen, you'll win fabulous People's Pottery prizes each day! See below for the list of prizes. Send your story via email to: tony@warm1013.com.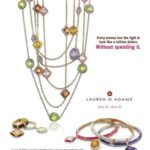 Monday
Lauren G Adams: 42″ long necklace with crystals surrounded by colorful handcrafted enamel. As in the picture. $265.00. Exclusively available at People's Pottery. The signature look of Lauren G Adams Jewelry is bright colors and graceful prints brought to life in high quality handcrafted enamel. This line is all about the intricate details with 18k gold, rose gold, sterling silver and rhodium finish over metal. The Lauren G philosophy is that every woman has the right to look like a million dollars without spending it!
Tuesday
TwirlyGirl Dress. TwirlyGirl is one of the newest lines at People's Pottery. These are dresses for little girls – but these are not ordinary dresses! TwirlyGirl dresses are colorful and comfy, many are reversible and they ILLUMINATE movement. That means they "Twirl"! These are dresses, reversible skirts and more for little girls that will truly light up their personality. All the dresses are colorfast, machine washable, reasonably priced and made in the USA. Twirly Giveaway Item: Beautiful and Colorful Reversible Dress $80.00. Exclusively available at People's Pottery.
Wednesday
Petals of Honor. Beautiful Sterling Silver "Flower Petal" Pendant with Chain and the signature Dew Drop Diamond. $225.00 Exclusively Available at People's Pottery. Each flower petal symbolizes exceptional characteristics including love, family, mother, friend, sister, and beautiful. Each piece is crafted in 14k Yellow gold, 14K White gold, or Sterling Silver. Each piece includes a signature diamond dew drop. Petals of Honor is a unique jewelry line designed to represent the most cherished
elements of a woman's life.
Thursday
Ti Sento Milano: From the Leading Lady NYC Collection a Sterling Silver Heart Pendant with Hand-Set Triple Grade CZ's, a Rhodium Finish and on a Luminous Pearl Shell Necklace. $371.00 This line is handcrafted sterling silver with a European flair. It's interchangeable pieces, colorful and all the jewelry has a rhodium finish so it will never tarnish. Exclusively Available at People's Pottery
Friday
Kiss & Dream Diamond Collection – Diamond Stud Earrings: 1/2 carat Diamond Earrings, $820.00 The K&D Diamond Collection is Exclusively Available at People's Pottery. The K&D Collection is hundreds of beautiful rings and wedding bands, gorgeous diamonds, diamond studs and diamond hoops. Great pricing and the best customer service in town. (courtesy of Carla)